Thank you for visiting our website of Uwamachi Animal Hospital. We provide healthcare for Dogs, Cats, Rabbits, Ferrets, and Rodents.
You can call us at 046-821-3338 in order to make an appointment for grooming, surgery, dental cleaning and emergency care. Otherwise, please go to our reservation site.

Recent our efforts for COVID-19
When you come to YAMEC, please keep in mind the following.

1. Please wear a mask when entering the examination room. If you do not have it, we will sell a mask at a 50yen.

2. If you came with a few people, we would like some of you wait into your car or outside.


Thank you very much.

Sincerely


Dr.Kato from YAMEC

Business Hours  AM 8:30-12:00 PM 16:00-19:00
We are closed on every Tuesday.
Appointment
Every animal needs an appintment for consultation from Feb 1st 2018. Please visit our reservation site.
Emergency Services
If your animal has a pet emergency late at night, please call us at 046-821-3338 and make an appointment. We will charge you an additional late night fee. It will be a minimum of \2,500.
Payment
We accept Credit Card(Visa, Master, Amex etc) and Japanese Yen for payment. We do not accept payments in US dollars.

Services
Annual health exams, Issue any certificate for quarantine, Vaccination(Rabies & Com Vac), Blood work, Xray, Ultrasound, Boading, Grooming, and Surgery. If your pet needs a CT or MRI, we will refer you to a University or Imaging center. We can issue every certificate in English.
Medical Cost 
We will add 10% consumption tax.
1st office visit ¥1,400, Recheck ¥800,
Rabies vac ¥3,000 , Cat combination vac ¥5,000~, Dog combination vac ¥ 6,400~
Cat neutered surgery ¥15,000, Cat spayed surgery ¥25,000
Dog neutered surgery ¥30,000~, Dog spayed surgery ¥38,000~
Access
Boading Services
Small Breed Dog & Cat ¥3,600/night
Middle Breed Dog ¥4,000/night
Large Breed Dog ¥5,000/night
Grooming・Trimming
Please call us at 046-821-3338 to make an appointment.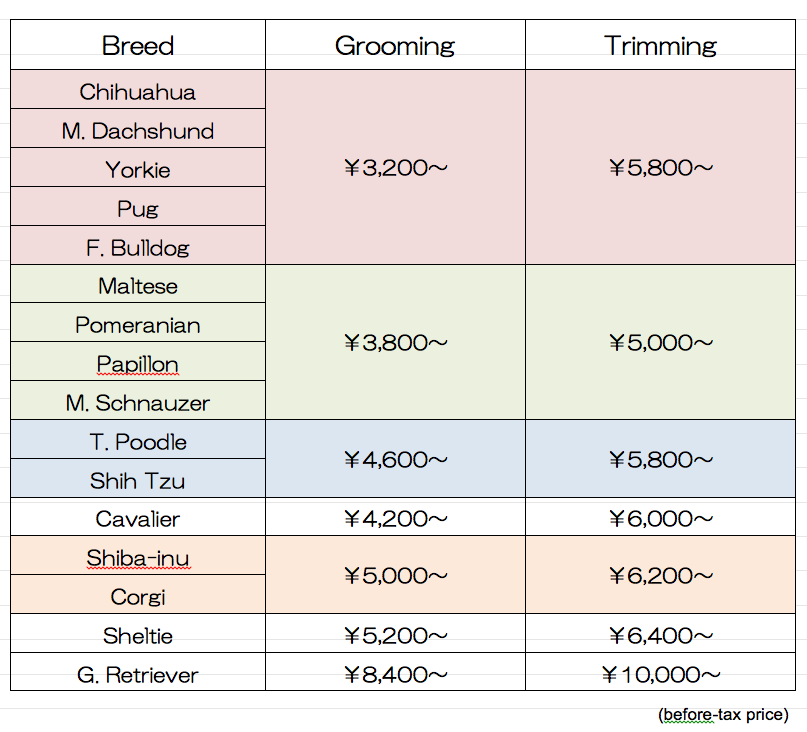 *The above price list includes Nail Trim, Anal sac trim, Ear cleaning, Trimming around Paws.
*If your dog has tagled coat or needs medicated shampoo, we will charge ¥500~ additionally.